RESIDENCE DE RECHERCHE
HIVER 2015-16
49 NORD 6 EST - FRAC LORRAINE, METZ
Ysé Tran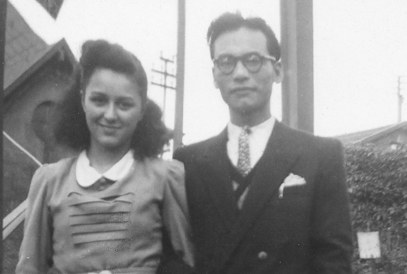 Marie-Louise et Tam, Knutange, 1950
Through words and images, the artist takes us back to the singular, and little known, history of forced Indochinese workers in Lorraine. Shared memories, words, life fragments, have been the points of departure for this fascinating research project conducted by a young filmmaker of Vietnamese origin, Ysé Tran, in collaboration with the Lorraine author Pierre Daum who was the first to bring to light this forgotten page in French colonial history.
-
Ysé Tran is a director of short films, as well as an actor, and she is going on tour with a Théâtre National de Nice production. She is also a contributor to the magazine Traffic, Lettre du cinema, and the online journal Médiapart.
Pierre Daum, native of Thionville, is a journalist. Former correspondent in Austria for the daily Libération, he has collaborated with numerous European newspapers: Le Monde, L'Express, La Libre Belgique… and regularly contributes cover stories to Le Monde diplomatique. His research on France's colonial past has been published by Actes Sud.
A documentary film and a book based on the research conducted during this residency are forthcoming, with the support of the Lorraine Region.