EXHIBITION
20 MAY - 18 SEP 2011
49 NORD 6 EST - FRAC LORRAINE - METZ (57)
First retrospective of the South-African artist in Europe (Belgium, France, and the Netherlands).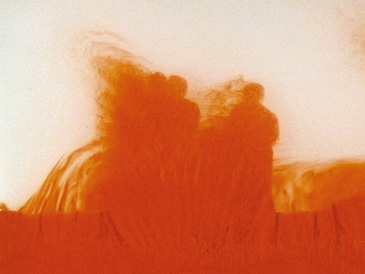 Eminently political, the video works of the South-African artist Berni Searle (born in 1964 in Cape Town where she resides) draw on an esthetic of the poetic metaphor. Not directly confrontational, Searle often uses her own body in performative video works. She explores aspects of her heritage and the way in which this intersects with gender, history and memory in order to question the notion of identity and to examine the residual effects of colonialism and apartheid as well as ideas relating to migration, nationalism and xenophobia in various contexts.
Berni Searle works with lens-based media—photography, video, and film—to stage narratives connected to history, memory, and place. While her work is intertwined with South African history that has emerged from a "life apart" (apartheid), her poetic and abstract imagery transcends the specific to address ideas about belonging and displacement in various contexts.
She questions tirelessly the self and the other, examining the elements of her own identity shaped by successive cross-fertilizations: a "composite identity" based on "creolization"―a notion dear to Edouard Glissant's heart. Begun in the early 1990s, Searle's work (installations, videos, and photographs) is poetically political. Nourished by personal mythologies, it questions memories and memory (About to forget, 2005), underscoring the dynamics of human relations, the dissolution of family ties, and the arbitrary character of racial, religious, and gender categories.
Searle often works with her own body, upon which experiences and memories are inscribed and expressed (Snow White, 2001; Mute, 2008). Violence and suffering are rarely shown outright. Rather, they burst forth from the sumptuous image whose lyrical and esthetic qualities are imbued with dramatic intensity (Vapour, 2004; Moonlight, 2010). Without ever slipping into pathos, Berni Searle creates a polysemic, disturbing, intimately personal, and profoundly universal work――an ode to humanity in which everyone is what she or he has built.
Berni Searle was born in 1964 in Cape Town, South Africa, where she continues to live and work. She graduated from the Cape Town University in 1995. Since 1999, her work has been featured in numerous solo and collective exhibitions in South Africa, the U.S., and Europe, including the Museum of Modern Art and the Venice Biennales of 2001 and 2005.
­­
The present exhibition is part of the retrospective Berni Searle. Interlaced co-organized by Cultuurcentrum Brugge (BE), 49 Nord 6 Est―FRAC Lorraine (FR), and the Museum voor Moderne Kunst in Arnhem (NL).
17.04 – 12.06 2011 // Berni Searle. Interlaced
Cultuurcentrum Brugge (be)
www.ccbrugge.be
09.07 – 16.10 2011 // Berni Searle. Interlaced
Museum voor Moderne Kunst Arnhem – MMKA (NL)
www.mmkarnhem.nl

FILM
On this occasion, Berni Searle has been commissioned to create a new work, shot in Brugges.
The triple screen video installation, in which the artist performs with gold leafed hands and black lace, could allude to the dark side of the history of the Belgian Congo, but also expresses a deeper sense of loss while questioning the status quo.
Berni Searle. Interlaced, 2011.
Three channel video projection
High Definition video, 8'30''
Commissioned by Cultuurcentrum Brugge, in conjunction with Museum voor Moderne Kunst Arnhem (MMKA), and 49 Nord 6 Est – FRAC Lorraine.

PUBLICATION
A trilingual catalogue outlines the origins of the film Interlaced and inscribes it in the broader context of Berni Searle's work.
Berni Searle. Interlaced
– Publisher: MMKA Arnhem
– Co-publishers: 49 Nord 6 Est – Frac Lorraine and Cultuurcentrum Brugge
– Trilingual : English / French / Dutch
– Texts: Mirjam Westen, Julie McGee, Michel Dewilde
– 20 €, available in May at the FRAC Lorraine
Share