EXHIBITION
24 MAY - 11 NOV 2012
49 NORD 6 EST - FRAC LORRAINE - METZ (57)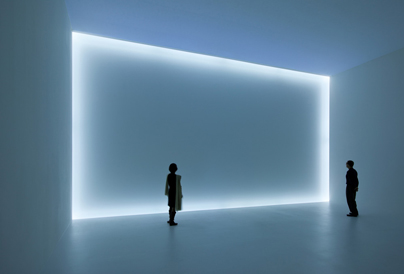 Experience light and indefinite space! Doug Wheeler, a pioneer of the California Light and Space movement¹, proposes three new site-specific spaces of perception, three luminous installations. Since the 1960s, the famous American artist has been unhinging our senses and guiding us to inhabit moments of liminality, instants of suspension in pure light. His spaces appeal not only to the retina but also to the body as a whole, and thus invite us to an approach both initiatory and meditative.
For his first solo exhibition in Europe since 1975, the Californian artist has created two new phosphorescent pieces, in addition to conceiving a new perceptual environment in his famed series of "light walls". His immersive environments subtly absorb the viewer and provoke a unique experience, which does not engage reason but is addressed directly to the body, through all the senses.
A poet of light, Doug Wheeler creates atmospheres of a rare sensuality. He challenges our perception of depth and volume, even while our bodies, clothed in light, dissolve in the white space that has grown infinite. It is a question then of exploring the very substance of light and of provoking unprecedented sensorial perceptions.
The artist belongs to the Anglo-Saxon tradition of "art as experience"², which consists in enlisting the visitor as an agent in the work through the performative experience. One comprehends the work by means of action; confronted with the unknown, the body sets in motion attitudes forgotten or abandoned by the collective memory. Doug Wheeler's works incite a democratic desire for "knowledge through the body" which cannot be transmitted through words and which would have to do with or reexamine the aspect of ritual. A rite of passage toward enchantment!
—
¹ The "Light and Space" movement was created in the mid-1960s on the West Coast of the United States.
² John Dewey (1859–1952) is one of the pillars of "pragmatism". "Art as Experience" tackles moral and esthetic questions in the spirit of experimentation, which liberates the individual from the intimidating myths that hinder artistic experience.
Doug Wheeler / Biography

Born in 1939 in Globe, Arizona (US)
Works in Santa Fe, New Mexico, and Santa Monica, California (US)
Doug Wheeler began his career as a painter in the 1960s while he studied at the Chouinard Institute of Art (today the California Institute of Art) in Los Angeles. In 1965, he conceived a pivotal work in his artistic development, creating a canvas whose frame contains tubes of white neon lights producing subtle variations of light in the canvas. Installed above a white floor, the painting seemed to float. He then moved on to making light encasements, "paintings" composed entirely of Plexiglas and neon light, which were installed in totally featureless white rooms. The artist consequently abandoned object-making completely to work entirely with architectural space and light. In 1969, at the Stedelijk Museum in Amsterdam, he created his first environmental installation in a public space, a "light wall". His work was subsequently presented in numerous exhibitions³, notably: at the Tate Gallery in London and the Schmela Gallery in Dusseldorf in 1970; at the Salvatore Ala Gallery in Milan in 1975; at MoMa PS1 in New York in 1976; at the Museum of Contemporary Art in Los Angeles in 1986; and in 2000 at the Guggenheim Museum in Bilbao, Spain. In 2008, he created an environmental installation using ice and neon as part of his design for the exhibition Upside Down—Les Arctiques at the Quai Branly Museum in Paris. He collaborated with the noted French architect Jean de Gastines on the scenography. He inaugurated a solo exhibition, entitled SA MI 75 DZ 12, at the David Zwirner Gallery in New York in January 2012.
—
³ Larry Bell, Robert Irwin, Doug Wheeler, Tate Gallery, London, 1970; Douglas Wheeler. Licht-Bilder, Schmela Gallery, Dusseldorf, 1970 ; Salvatore Ala Gallery, Milan, 1975; Rooms, MoMa PS1, New York, 1976; Individuals : A Selected History of Contemporary Art, 1945–1986, Museum of Contemporary Art, Los Angeles, 1986.
Share