EXHIBITION
16 MAY - 09 JUN 2014
49 NORD 6 EST - FRAC LORRAINE - METZ (57)
Forgiving Architecture
-
Opening: Friday 16th May at 7pm in presence of the artist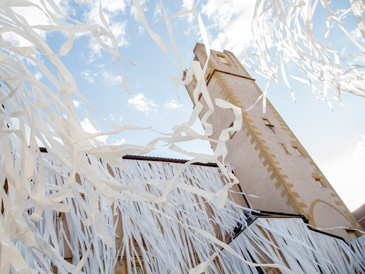 X YEARS AT FRAC — WHITE SPIRIT, THE RETURN
Who better to celebrate the anniversary at 49 Nord 6 Est than an anarchitect! FRAC Lorraine, a singular, unclassifiable place, enjoys subverting and mixing up knowledge, and above all, experimenting. There is no one better than Gianni Pettena to transform this space and its perception by creating an airy, mercurial installation that goes against the grain of centuries' old, static architecture. Gianni Pettena, whose work is at the crossroads of art and architecture, has never built much and claims that his only architecture project is his cabin on the island of Elba. As a principal figure of Italian Radical Architecture*, Pettena spends more time thinking than laying bricks.
By proposing to hide the building that has housed FRAC Lorraine for the past ten years, Pettena's gesture renews the poetics of the site's inauguration. Hans Schabus's labyrinth of white cardboard is still fresh in our memory as are the many performances in the form of a manifesto at the launching of FRAC. Since then, FRAC has not wavered from its goals: initiating new curatorial practices by inviting the audience to act and react; combining knowledge and sensory experiments; anticipating and explaining social, ecological, and philosophical changes…
For ten years, FRAC has constantly challenged clichés and stereotypes about art and culture.
*A movement founded in the 1960s, which blazed new trails for architecture, away from any constructive purposes.
Gianni Pettena
Born in Bolzano, IT, in 1940
He is one of the foremost representatives of Radical Architecture along with Archizoom, Superstudio, and UFO. Radical Architecture emerged in the 1960s as a movement which based new trails for architecture by exploring its relationships between art and society. Gianni Pettena studied architecture at the University of Florence. He was a rather atypical student who spent more time in art galleries than in lecture halls…
Artist, architect, designer, professor, historian and critic of architecture, he thinks of himself above all as an
"anarchitect". For him, architecture must free itself from constraints of construction in order to remain creative and capable of interpreting social transformations. Convinced of the necessity of rethinking the meaning of architecture as a discipline, he supports "artists who construct and architects who draw".
Share