EVENT
SATURDAY 10 JAN 2015, 14H
49 NORD 6 EST - FRAC LORRAINE - METZ (57)
The sky won't be falling!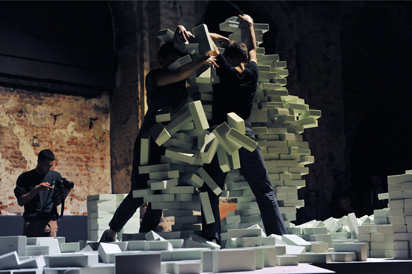 Regardless of what the pessimists think, the sky won't be falling! What if the collective is the solution?
program

2–6pm / Residency at the Haut de sainte-croix, Metz
Shooting the breeze
Julie Luzoir, conception
-
Come and chat, chew the fat, shoot the breeze … about weather phenomena, or anything else! Inter-generational discussions guaranteed!
Project realized with the help of inhabitants and the association Hiatus, as part of the Human Library network.
Upon reservation: or 0033(0)3 87 74 20 02

2–6pm / Chapelle des Trinitaires, Metz
Meanwhile
Gaëtan Rusquet, conception
Amélie Marneffe, Claire Malchrowicz, Gaëtan Rusquet, performers
Yann Leguay, sound
-
What happens when the earth begins to quake? Can our federated bodies stand up to it?

3–5pm / Église des Trinitaires, Metz
Comme de l'eau
Taysir Batniji, conception
49 Nord 6 Est- Frac Lorraine Collection
-
"We have so many words for 'water' in Arabic, and yet water is becoming increasingly rare and rationed." — Mahmoud Darwish
Dipping his paintbrush in water, T. Batniji, a Gaza artist, writes on the ground the 109 Arabic words for "water" inventoried in the eleventh century by Ibn Sida. A metaphor for universal consciousness, this is also a call to resistance and to perseverance!
Share