EXHIBITION
30 OCT - 17 JAN 2016
49 NORD 6 EST - FRAC LORRAINE - METZ (57)
Body Talk - Feminism, Sexuality & Body
Curator: Koyo Kouoh
Opening: *Thursday, October 29, 7pm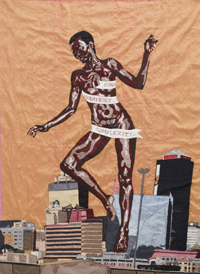 In Body Talk, six artists, all from Africa, and all marked by the shared history of the continent, by its wounds and its commitments, take a look at feminism, sexuality, and the body. Body Talk is the rising voice of a generation!
This is not the first time that 49 Nord 6 Est reflects on women's status and identity. The plurality of feminisms around the world and their protean struggle has always been at the heart of its concerns. It is therefore only natural that its interest has turned toward the African art scene. Koyo Kouoh, director of the Raw Material Company in Dakar and a key figure in the new artistic and critical landscape in Africa, has been invited to develop an exhibition: Body Talk.
Body Talk opens our eyes to contemporary ways of looking at the world informed by the "other"—i.e. African—feminism, such as reappropriation of the body by subverting the idea of woman as sex object; embodiment of historical figures, like the "Black Venus" or the Nigerian woman activist Funmilayo Kuti; performative transformation that bridges tradition and modernity…
In order to counteract the invisibility of black women in France, even while they struggle for recognition with increasing vigor, and to restore to the black body its rightful place, we have designed a committed program of performances, talks, and meetings that accompany this exhibition.
ARTISTS :
Zoulikha Bouabdellah (born in 1977 in Moscou, Russia. Lives in Casablanca)
Marcia Kure (born in 1970 in Kano, Nigeria. Lives in Princeton, NJ)
Miriam Syowia Kyambi (born in 1979 in Nairobi, Kenya, where she lives)
Valérie Oka (born in 1967 in Abidjan, Côte d'Ivoire, where she lives)
Tracey Rose (born in 1974 in Durban, South Africa, where she lives)
Billie Zangewa (born in 1973 in Blantyre, Malawi. Lives in Johannesburg)
CURATOR :
Koyo Kouoh, assisted by Eva Barois De Caevel (RAW Material Company, Dakar)
Exhibition initated by WIELS, Brussels (BE) in coproduction with 49 Nord 6 Est, Metz (FR) and Lunds konsthall, Lund (SE)
BIOGRAPHY OF KOYO KOUOH
Koyo Kouoh is founding artistic director of Raw Material Company, a center for art, knowledge, and society in Dakar, Senegal, and the curator of FORUM, an educational program at the 1:54 Contemporary African Art Fair in London. She has a degree in banking administration and cultural management in Switzerland and in France.
Koyo Kouoh, who maintains a sustained theoretical, exhibition, and residency program at Raw Material Company, also pursues curatorial, advisory, and judging activity internationally.
Koyo Kouoh Lives and works in Dakar and Basel.
AGENDA
2015–2016 / In collaboration with Rasha Salti, she is currently working on Saving Bruce Lee: African and Arab Cinema in the Era of Soviet Cultural Diplomacy, a research, exhibition, and publication project spread out over three years, which will be featured at the Garage Museum of Contemporary Art in Moscow in June 2015 and September 2016.
2016 / The 37th edition of EVA International, Ireland's biennial of contemporary art, will be curated by Koyo Kouoh.
SELECTED RECENT PROJECTS
2015–2016 / "Body Talk: Feminism, Sexuality and the Body in the Word of Six African Women Artists," WIELS, Lunds Konsthall, 49 Nord 6 Est
2014 / Precarious Imaging: Visibility Surrounding African Queerness,Raw Material Company
2013 / Word
Issa Samb and the Undecipherable form, Raw Material Company/OCA/Sternberg Press, the first monograph devoted to the work of the pioneering Senegalese artist Issa Samb
2012 / Condition Report on Building Art Institutions in Africa, a collection of essays presented at the eponymous symposium organized in Dakar in January 2012, and Chronicle of a Revolt: Photographs of a Season of Protest, Raw Material Company and Haus der Kulturen der Welt, Berlin.
She was a co-curator of Documenta 12 (2007) and Documenta 13 (2012).
Share