EXHIBITION
05 FEB - 05 JUN 2016
49 NORD 6 EST - FRAC LORRAINE - METZ (57)
Opening: Thursday, February 4, 2016 at 7 PM, in the presence of the artist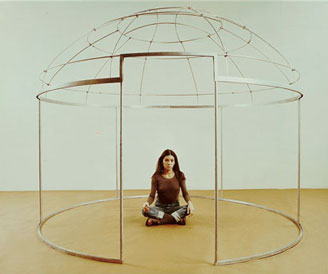 On the occasion of the first French retrospective of the work by Nil Yalter, 49 Nord 6 Est invites you to discover over a dozen pieces by this firmly engaged artist of Turkish origin, most of which have never been shown on the national artistic scene!
-
A voluntary exile, Nil Yalter (1938, Cairo, Egypt), settled in Paris in 1965. She is a pioneering, spirited, and original artist motivated by social and political convictions. She creates hybrid works that combine video, painting, drawing, photography, collage, as well as performance and installation. Rooted in conceptual art, her work does not reject either form or materiality and, in its singular approach, eludes the contemporary artistic canons.
The artist's early work, pictorial and abstract in nature, took a "documentary turn" in the 1970s: Yalter started to incorporate social, anthropological, and ethnographic considerations, linked to her country of origin (such as crafts, shamanism, magic), and associate them with ideological issues of the post-1968 period. For the present exhibition, the artist has chosen a set of works that address the question of nomadism, exile, women's spaces, such as the emblematic "Topak Ev" of 1973 (a major historical piece whose form is inspired by ancestral traditions of Anatolia nomads), and the neon production of 2015: "Exile is a Hard Job."
A feminist manifesto, the words of migrant workers, travelogues from journeys across central Europe, and transformative spiritual experiences are clear evidence that the artist is as engaged with ideas as she is with form. As early as the 1970s, Nil Yalter started recycling materials and images in her creative work, and today she uses new technologies to reactivate some of those pieces. The artist is continuously updating her discourse and her media, as well as fighting to foreground the struggles of minorities, which unfortunately remain a hot-button issue.
Biographie
Nil Yalter, born in 1938, has lived and worked in Paris since 1965. She has worked in video, painting, drawing, and multimedia installations since 1973. She is represented by: Galerist, Istanbul (Turkey); Mot International, London (GB); Hubert Winter Gallery, Vienna (AU); and Espaivisor, Valencia (ES)
UPCOMING EXHIBITIONS
2016 / « Nil Yalter », Arter – Space of Art, Istanbul
RECENT SOLO EXHIBITIONS
2015 / La Verrière : « Nil Yalter 1973/2015 », Fondation d'entreprise
Hermès, Bruxelles.
MOT International Gallery (Londres) : « Nil Yalter ».
2014 / Art Brussels : « Solo », Galerist, Istanbul.
Galerie Hubert Winter (Vienne) : « Orient-Express », « Paris Ville Lumière », « Neunkirchen ».
2013 / Frieze Masters (Londres) : « Spotlight », Espaivisor Galeria.
2012 / Espaivisor (Valence) : « 1970/1980 (Works) ».
Centre Pompidou (Paris) : conférence, vidéo et après, « C'est un dur métier que l'exil ».
GROUP EXHIBITIONS (SELECTION)
2015 / Espaivisor Galeria (Valence) : « Passing on the Value of Microhistories ».
Tranzitdisplay (Prague, République tchèque) : « Ma'Aminim, the believers ».
2014 / MAM (Rio de Janeiro) : « Topak Ev ». . Curated by Adriano Pedrosa et Rodrigo Moura.
Biennale de Gwangju : « Le Chevalier d'Éon ». . Curated by Jessica Morgan.
Museé d'Art et d'Histoire (Saint-Denis) : « Ma'Aminim, les rêveurs ». . Curated by Guillaume Désanges.
2013 / 13e Biennale d'Istanbul : « Paris Ville Lumière ».
Centre Georges Pompidou (Paris) : « Modernités Plurielles 1905–1970 ».
2012/ Museum Boijmans Van Beuningen (Rotterdam) : « Istanbul Museum of Modern Art ».
2009 / Centre Georges Pompidou (Paris) : « elles@centrepompidou ». . Curated by Camille Morineau.
2007–08 / The Museum of Contemporary Art (Los Angeles)/National Museum of Women in the Arts (Washington, D.C.)/Contemporary Art Center (Vancouver)/PS1 MoMA (New York) : « WACK! Art and the Feminist Revolution ». . Curated by Cornelia Butler.
Nil's Interview from Frac Lorraine on Vimeo.
Share