EXHIBITION
10 NOV - 19 FEB 2017
49 NORD 6 EST - FRAC LORRAINE - METZ (57)
Not Ready To Make Nice GUERRILLA GIRLS 1985-2016
Curator: Xabier Arakistain
–
Opening: Wednesday, November 9th at 7pm
In presence of the curator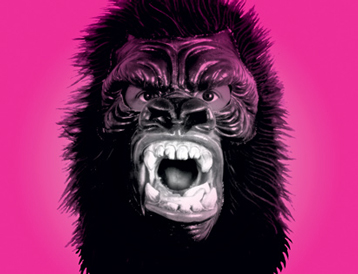 This fall, the Guerrilla Girls' breath of inquisitive air sweeps over the Grand Est! More active than ever, invariably politically incorrect, the American collective takes over the spaces of 49 Nord 6 Est for a show orchestrated by Xabier Arakistain, a staunch supporter of the feminist cause. "Not ready to make nice!" The title of this exhibition, which traces thirty years of artistic insurrection, says it all.
Concerned with the lack of equality—whether gender, race, or class—in international museums, the Guerrilla Girls have taken up arms! Becoming the "conscience of the world of art," anonymous behind their gorilla masks, these activists have relentlessly denounced all forms of discrimination. Veritable twentyfirst-century Robin Hoods, the Guerrilla Girls continue to galvanize the cultural sphere with their famous posters and the lacerating wit of their provocative actions. They sound an urgent call to arms!
Join us at 49 Nord 6 Est for creative action workshops, a self-defense course, and intersections between art and activism. Like the Guerrilla Girls, become super-hero.ine.s, whether you like wearing tights or not!
Share