PERFORMANCE
SATURDAY 06 MAY 2017, 14H
ESPACE PUBLIC - METZ
Work of Amalia Pica.
Collection Solomon R. Guggenheim Museum, New York.
-
Festival Passages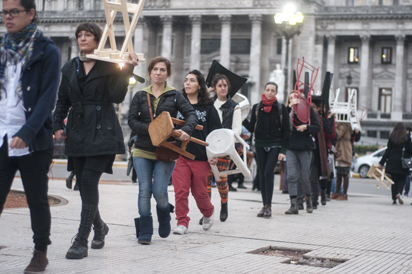 A group of volunteers, each carrying a different chair, try to form a circle as if to launch a meeting, without ever succeeding. As soon as the last person in line is ready to sit in the chair they've just deposited and close the circle, the person who started the process gets up to begin forming a new circle right next to the first one.
In her choreography, Amalia Pica explores what we have in common in an effort to discover codes of communication outside the spoken language. She investigates group dynamics, modes of collaboration, and the give-and-take between bodies conducive of inclusion or exclusion. Asamble is part and parcel of her research and is intended as a sociopolitical metaphor breaking up the daily rhythm of city life.
Amalia Pica is born in 1978 in Nequén (AR). Lives and works in Nequén (AR)
Collection Solomon R. Guggenheim Museum, New York
A International Performance!
Asamble will be presented :
MAY, 04 at the MACBA, in Barcelona
MAY, 04 at the Solomon R. Guggenheim Museum, in New York
and MAY 06 in Metz in festival Passages.
Share