RESIDENCY: PUBLIC PRESENTATION
03 MAR - 04 JUN 2017
49 NORD 6 EST - FRAC LORRAINE - METZ (57)
Selma et Sofiane Ouissi
-
Dans le cadre de "Manufactories of Caring Space-Time"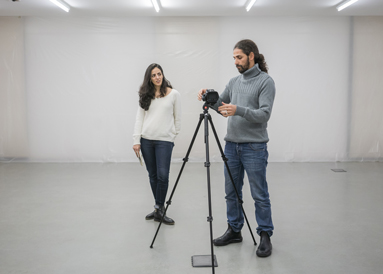 Invited by 49 Nord 6 Est to work with a group of participants on creating a universal language, the multidisciplinary duo gathers "its community"!
Discover a 2-year-long research and creation residency in a public presentation. Drawings, protocols, photos, and minutes from participatory workshops – a true experience of "living together" is now open to all! You too will adopt the "minor gesture" regardless of gender, race, or language, with no borders or prejudice.
MUST SEE / The minor gesture in May!
The Passages Festival invites Selma & Sofiane Ouissi for a repeat performance with audience participation. Sessions on May 6, 7 & 8 in Metz!
www.festival-passages.fr
-
Selma et Sofiane Ouissi
THE MINOR GESTURE
-
The artists-choreographers Selma and Sofiane Ouissi (born in Tunis, 1975 and 1972, respectively) are interested in the interaction between body language and otherness. By collaborating with local communities, they explore the power of minor gestures to transcend boundaries, social differences, and linguistic barriers. Their creations are both poetic and political. They record nonverbal language and create new modes of cohabitation based on cooperation, attention, and exchange with the other. Selma and Sofiane spotlight the life stories of persons marginalized by the dominant discourse. Making use of video, choreography, illustrations, and installations, they invite us to reach out to the other through a gesture of shared emotion and experience. Like memory, the body is a site and an archive of lived experience. The other's gestures are transformed into a collective notation.
Selma & Sofiane Ouissi are choreographers, dancers, performers, video artists. Their creations have been featured at prestigious festivals and shown around the world. In 2007, they founded the association L'Art Rue dedicated to the production and dissemination of contemporary art in public spaces in Tunisia. They created "Dream City," a multidisciplinary biennale in Medina's city center (edition 2017: 4–8 october). They are today considered to be major figures in contemporary dance in the Arab world.
Share