EXPOSITION
06 JUL - 21 OCT 2018
49 NORD 6 EST - FRAC LORRAINE - METZ (57)
Martin Beck.
Dans un second temps
Opening: July 5, at 7pm in presence of the artist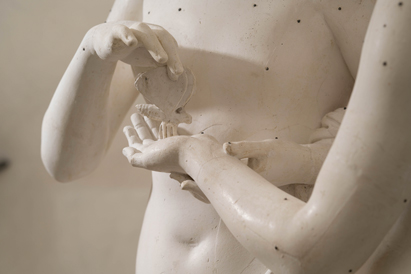 Unfolding as a composition, this exhibition features recent works by the Austrian artist Martin Beck who, at 49 Nord 6 Est–FRAC Lorraine, presents his first major show in France.
Works on paper, photographs, sculptures, and videos… the artist chooses his medium depending on the subject matter addressed. Flowers, for example, consists of sets of photographs that document the arrangement of a so-called Dutch flower bouquet. The images reveal both the methodical work of a florist and the fragility of the material she handles. Gestures and forms are gathered in altogether 36 different constellations that do not follow a sequential order.
Temporality is an essential component of Beck's work (born in 1963, lives in New York and Vienna, where he teaches). The research supporting the making of his works often spreads over several years before it culminates in a physical manifestation—the first element of Last Night took four years to develop—or is a part of continuous long-term effort—in recent years Beck produced one US letter-size document a day for certain durations, completing each year a new stage of working forwards, a diary-type art work.
In this exhibition, the geological time of conglomerates—sedimentary, instable rocks made up of various clasts that have remained separated despite the passage of millennia—runs alongside regular time, such as the artist's everyday work, or ephemeral time, such as the music played at the last seminal Loft party at 99 Prince Street in New York in 1984, which brought together diverse communities, revisited in a film that follows its total thirteen-and-half hour duration.
Dans un second temps brings together, in the space of the exhibition, constellations of objects created as artworks or by natural forces and informed by reflections on communities, forces of labor, or social dynamics. The artists extracts forms from histories and narratives related to countercultures—shaped by gatherings, of people, natural elements, or objects—to reassess them in light of the present. At FRAC Lorraine, composition is used as a tool to reorganize these social and spatial structures as well as the accompanying hierarchies, be they visual, economic, or community-related.
Share