EXHIBITION
06 JUL - 21 OCT 2018
49 NORD 6 EST - FRAC LORRAINE - METZ (57)
Martin Beck.
Dans un second temps
Opening: July 5, at 7pm in presence of the artist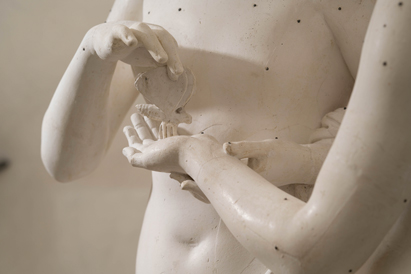 Unfolding as a composition, this exhibition features recent works by the Austrian artist Martin Beck who, at 49 Nord 6 Est–FRAC Lorraine, presents his first major show in France.
Works on paper, photographs, sculptures, and videos… the artist chooses his medium depending on the subject matter addressed. Flowers, for example, consists of sets of photographs that document the arrangement of a so-called Dutch flower bouquet. The images reveal both the methodical work of a florist and the fragility of the material she handles. Gestures and forms are gathered in altogether 36 different constellations that do not follow a sequential order.
Temporality is an essential component of Beck's work (born in 1963, lives in New York and Vienna, where he teaches). The research supporting the making of his works often spreads over several years before it culminates in a physical manifestation—the first element of Last Night took four years to develop—or is a part of continuous long-term effort—in recent years Beck produced one US letter-size document a day for certain durations, completing each year a new stage of working forwards, a diary-type art work.
In this exhibition, the geological time of conglomerates—sedimentary, instable rocks made up of various clasts that have remained separated despite the passage of millennia—runs alongside regular time, such as the artist's everyday work, or ephemeral time, such as the music played at the last seminal Loft party at 99 Prince Street in New York in 1984, which brought together diverse communities, revisited in a film that follows its total thirteen-and-half hour duration.
Dans un second temps brings together, in the space of the exhibition, constellations of objects created as artworks or by natural forces and informed by reflections on communities, forces of labor, or social dynamics. The artists extracts forms from histories and narratives related to countercultures—shaped by gatherings, of people, natural elements, or objects—to reassess them in light of the present. At FRAC Lorraine, composition is used as a tool to reorganize these social and spatial structures as well as the accompanying hierarchies, be they visual, economic, or community-related.
Discussion with Martin Beck
49 Nord 6 Est – Frac Lorraine: What comes first, the work or the exhibition?
Martin Beck: Work and exhibition are always intertwined. The conditions of a work's display are an integral part of how it can be understood, therefore I find it difficult to think of a before and after. What interests me in regard to this relation, however, is how changing the presentational conditions (other spaces, viewing conditions, relations to changing adjacent work, etc.) can change the meaning of a work.
What makes you select specific works for a specific location? The exhibition at FRAC is your first project since the retrospective of your work at MUMOK. How did you approach this project?
The exhibition includes artworks from different bodies of work made over the past eight years. The selection was made in dialogue with Frac Lorraine's director, Fanny Gonella. As it is the first substantial show I am doing in France we wanted to show the range of topical engagements that is integral to my practice, but also to compose an exhibition that is cohesive in its aesthetic and topical ambition.
Looking backwards in order to working forwards?
Time is an important factor in my work. History and its relationship to the present are driving forces and I am interested in the process of how they mutually construct each other.
The loop as a way to suspend the flow of time?
That is a tricky one because the loop is based on repetition. My interest in time is focused more on transformations and difference, the relationship between closeness and distance. This brings to mind the way you appeal to the private space of the studio in your work even as you examine the public space of the institution, both spatially and in terms of the discourse the institution is a vehicle for.
How do you view the relationship between artists and institutional structures?
They are mutually dependent—artists do not exist in a vacuum. The relationship, of course, is not always an easy one and it needs to be questioned and challenged continuously. The relationship of art and its institutions (studio, gallery, magazines, museums, collections, art history, discourse, etc.), however, is always one of mutual productivity.
Your interest in working processes often lays the ground for the work themselves. Why do you think a closer study of our relation to work is worth it?
Over the past three decades, the way work is conceptualized, organized, managed and remunerated has changed contemporary society dramatically —and not always for the better. So, bringing to the foreground and making visible how these transformations of labor impact aesthetic production is part of a politics that runs through my work.
How do you relate to improvement?
Improvement, seen through the lens of contemporary economies and body politics is a twisted concept. The imperatives of (self-)improvement, life-long learning, etc. put enormous pressure on the subject and its relation to itself—pressure that results in economizing, optimizing, quantifying every aspect of our lives. But then, who doesn't want to become better at things? Who doesn't want better world?
Your work is polymorphous. To which extent are you interested in technique(s)?
I have long been fascinated by a quote from John Cage who, in a 1954 lecture, said, "I have no time for technique because I must always be making one: any technique can be discovered after any technique is forgotten."
Your contribution to numerous publications attests to theoretical research that goes beyond your work as an artist. Could you tell us more about your theorical work and writing?
Writing is a painfully slow process for me. So, I often dread it. I write as part of my art practice and, sometimes, use language as a way to think through certain relationships within and to the references that appear in my work. Recently, this type of writing has been closely related to actual artworks or, in the case of two recent text-based presentations were written as actual works (at the Carpenter Center, 2016, and the Renaissance Society, 2017). In the past I have also done a little of what one could call academic, research-based writing. But even then the writing was, topically, relating to issues I was working on at that time and was done in support of the work.
Counter-culture is quite much reflected in your work. What led you to get interested in it?
That's hard to explain without either telling my whole life-story or saying something banal. So, you have to forgive me if I don't answer this question.
Share