EXHIBITION
14 FEB - 05 JUL 2020
49 NORD 6 EST - FRAC LORRAINE - METZ (57)
Degrés Est: Emma Perrochon
Feb 14 – May 10, 20
Opening: thursday Feb. 13 at 7pm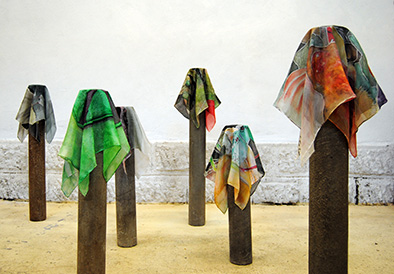 Degrés Est is part of a series of events organized in collaboration with FRAC Alsace and FRAC Champagne-Ardenne, focusing on artists with ties to the Grand Est region.
Emma Perrochon, guest artist invited by Fanny Gonella, the director of FRAC Lorraine, is presenting the 4th project in the series.
The work of Emma Perrochon (born in 1987 in Auxerre; lives and works in Nancy) is rooted in her knowledge of materials, their histories, characteristics, and requirements. Drawing on artisanal techniques, she explores the uses and contexts traditionally associated with specific raw materials, as well as the images they evoke, which are superposed on those before our eyes.
Whatever the forms she produces, the artist, who is a graduate of the Dijon School of Fine Arts, speaks of her artistic practice as the labor of a sculptor. Her techniques and gestures are not only the means of carrying out a project but are also bearers of meanings and reveal gaps in temporality or materials that are juxtaposed to tell intersecting stories.
Perrochon's installation for Degrés Est materializes one of the many, often unsettling intersections to be discovered in public space. Playing on the contrast between the fragility of human presence and the solidity of urban furniture, Emma Perrochon lends form to power relations between the materials and their assigned colors.
Share