EXHIBITION
23 JUL - 24 JAN 2021
49 NORD 6 EST - FRAC LORRAINE - METZ (57)
Céline Condorelli.
Two Years' Vacation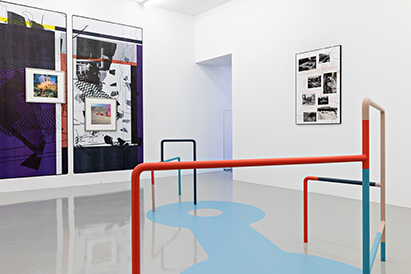 Two years' Vacation
Céline Condorelli and the collections of 3 Frac of the Grand Est Region
Martin Beck, Ursula Biemann, Geta Brātescu, Brognon Rollin, Judy Chicago, Lynne Cohen, Daniel Gustav Cramer, Peter Downsbrough, Harun Farocki, Aurélien Froment, Luigi Ghirri, Karl Holmqvist, Marine Hugonnier, Teresa Margolles, Ralph Eugene Meatyard, Camila Oliveira Fairclough, Cesare Petroiusti, Amalia Pica, Charlotte Posenenske, Lotty Rosenfeld, Martha Rosler, Cameron Rowland, Liv Schulman, Michael Snow, Mierle Laderman Ukeles, Atelier Van Lieshout, Nil Yalter & Nicole Croiset.
-
Under a title that evokes a kind of permanent summer, the exhibition presents a reflection between the work of the artist Céline Condorelli (lives and works in London) and a selection of works from the collections of Frac Alsace, Frac Champagne-Ardenne, and Frac Lorraine.
In the development of her thinking around the concept of support, the artist specifically grapples with the structures that occupy public space, with those that allow for an integration of culture into the day-to-day, or that support works of art or the bodies of those who come to visit them.
For her first solo exhibition in France, Céline Condorelli makes use of emotional connections and affinities as a means of orientation towards an institution. Interrogating her place in front of these groupings of works, entities established across time, the artist chooses to look through the lens of affinity and labor – based on her observation that the artist's labor becomes visible in the leisure time of the visitor, but also that affinities, like friendships, are tied to free time, and are essential to the development of artistic practice. By speaking about freed time, the artist also questions the functioning of the structures that support it (be they places of leisure, culture, or sports), but who rarely engage in social struggles or social issues.
In connection with the choice of Frac Lorraine to approach the collection as a reflection as a plurality of experiences, the artist proposes an exhibition as a space of friction that confronts shared pleasures, communal constraints and individual physical reality.
-
The public conversation with Maurizio Lazzarato (Sept 10th) launches "Tools for Imagination", an artwork by Céline Condorelli produced by Ramdom (Italy) in collaboration with FRAC Lorraine, Metz (France); Tenerife Espacio de Las Artes, Tenerife (Spain); Muzeum Sztuki, Lodz (Poland); South London Gallery, London (UK) and MACRO (Italy).
The project is supported by the Italian Council (8th edition 2020), program to promote Italian contemporary art in the world by the Directorate-General for Contemporary Creativity of the Italian Ministry of Cultural Heritage and Activities and Tourism
The exhibition is supported by Fluxus Art Projects, and by Fluxus Art Project
Share