EXHIBITION
23 JUL - 24 JAN 2021
49 NORD 6 EST - FRAC LORRAINE - METZ (57)
Degrés Est : Thomas Schmahl
July 23, 2020 – January 31, 2021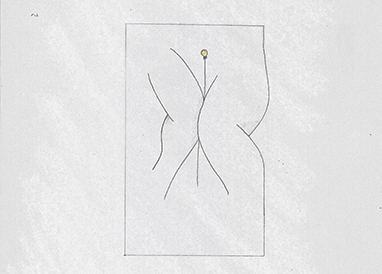 Thomas Schmahl (born 1994 in Annecy, lives and works in Reims) graduated from the ESAD of Reims. Proposed by the director of the Frac Champagne Ardenne for the Degrees East series, Thomas Schmahl's work is devoted to showing the anecdotal, the lacking, the unstable. The artist devises situations and installations in which the story and the protagonists often find themselves in an elsewhere.
Conceived for Degrees East, "L'aire mirabelle" takes the form of a system of use that reflects the reality of a highway rest-stop's bathrooms. The structure, fragile but viable, like an architecture within architecture, is that of an impersonal place responding to the need to stop. Inviting the visitor to enter into the structure, the artist stages an action which is not strictly situated. Instead, it could unfold either here or elsewhere, and asks us what happens when we are forced to slow down. Akin to a theatre set or a "sketch of the space" in 3D, the installation also contains sculptures representing automobile motor-oil gauges, instruments for measuring time.
For the occasion, Thomas Schmahl also produced a limited edition vinyl record, "The White Stripes." These airs of the highway bring together stretched echoing landscapes and pop songs, reflected in these spaces of uniform appearance.
In its rough transcription of cramped space opposite the immensity of the highway, "L'aire Mirabelle" offers the possible experience of a place within a place, playing between inside and outside, in the path of a permanent draft of air.
Share