INSTANTANEOUS
15 JAN - 20 JAN 2011
49 NORD 6 EST - FRAC LORRAINE - METZ (57)
Instantaneous Tiago Guedes
FRAC Lorraine, Metz and Centre Pompidou-Metz in partnership with ESAMM, Metz and ENSA, Nancy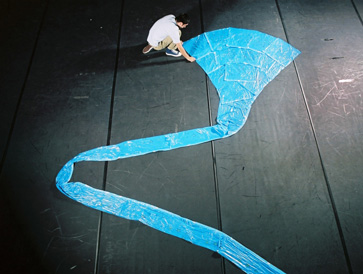 Reality and fantasy, the dark and the luminous, outside and inside, the serious and the humorous: using these oppositions, the young Portuguese choreographer Tiago Guedes, who has attracted international attention for his singular combination of dance and visual arts, invites us on an imaginary voyage. With this "Instantané" devoted to the artist, FRAC Lorraine and Centre Pompidou-Metz invite you to discover different facets of a universe in which the real and the imaginary intermingle.
On the program…
> VIEWERS' WORKSHOP //MONDAY 17 JAN 2pm-5pm
The floor is yours!
Tiago Bartolomeu Costa, dance and theatre critic
49 Nord 6 Est – Frac Lorraine, Metz
Tiago Bartolomeu Costa invites you to share your personal opinions in a lively and creative exchange of ideas. It is through discussion—boiling, friction, and alertness—that new readiness to accept the unknown willingly and without apprehension may emerge!
In order to better share your favorites, please remember to bring some of your books, CDs and DVDs.
Access : Admission free. On booking.
49 NORD 6 EST – FRAC LORRAINE / 1bis rue des Trinitaires, F-57000 Metz
/ Tél. : 0033 (0)3 87 74 20 02
>PERFORMANCE // WEDNESDAY 19 JAN – 8.30pm
Centre Pompidou-Metz, Metz (in collaboration with FRAC Lorraine)
Various Materials
Tiago Guedes, idea and dance
Newspaper, trash bins, masking tape… are among everyday materials a priori devoid of poetry. Manipulated with simplicity by Tiago Guedes, however, they metamorphose little by little into multiple worlds…
Tirelessly reconfiguring the elements, the choreographer creates a landscape that comes to breathe and unfolds in poetic metaphors. Astonished, we discover with each instant the way everything is constructed and invented, step by step…
Access : 5 €
CENTRE POMPIDOU-METZ / 1 parvis des Droits de l'Homme, F-57000 Metz
/ Tél. : 0033 (0)3 87 15 39 39
www.centrepompidou-metz.fr
Instantaneous Tiago Guedes continues…
> SHOW // SATURDAY 15 JAN 5pm & SUNDAY 16 JAN 4pm
Centre Pompidou-Metz, Metz / Access : 5 € (children aged 6 and older)
Matrioska
An initiation into contemporary art, voyage into an imaginary labyrinth where everyone invents their own story…
> SHOW// TUESDAY 18 JAN – 7pm
Ecole Supérieure d'Art de Metz Métropole-ESAMM, Metz / Accès : entrée libre.
1 rue de la Citadelle, 57000 Metz / Tél. : 00 33 (0)3 87 39 61 30
A solo
… through the course of a simple walk, the trace of a line in space, the young performer establishes a climate, a hypothesis, an expectation. It is just a solo, a single, and as if the first, step… (I. Filiberti)
> DANCE WORKSHOP FOR YOUNG AUDIENCES // SUNDAY 16 JAN – 11am*
Centre Pompidou-Metz, Metz / Access : Admission free
> WORKSHOP // THURSDAY 20 JAN all day
École Nationale Supérieure d'Art de Nancy – ENSA, Nancy
1 avenue Boffrand, 54000 Nancy / Tél : 00 33 (0)3 83 41 61 61
access: Only for students of ENSA.
Share