EXHIBITION
12 MAR - 15 AUG 2021
49 NORD 6 EST - FRAC LORRAINE - METZ (57)
Degrés Est : Aurélie de Heinzelin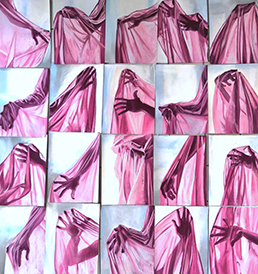 Aurélie de Heinzelin (born 1980 in Rouen, lives and works in Strasbourg) is a graduate of HEAR in Strasbourg and holds a degree in literature from the University of Rouen. Invited by the Frac Alsace, the artist will present, for the sixth iteration of Degrees East, a project that tackles the themes of the gisant and of fragmented bodies.
Making use of classical mediums (tempera paint, oil on wood, charcoal, and pastel on paper) Aurélie de Heinzelin has developed a pictorial language that mixes expressionism, symbolism and reference to the grotesque. Her work revisits the major themes and genres of Western art history in connection with religious iconography.
For Degrees East, Aurélie de Heinzelin continues her research on the body by studying the figure of the gisant, a marble funerary statue, usually recumbent on top of a tomb or sarcophagus. That of Catherine de Medici is painted in grisaille and surrounded by mourners, characters that frame the representation of the deceased within historical painting and sculpture. The work on folds and drapery, which unveils while simultaneously concealing, makes direct reference to certain classical works such as Botticelli's The Spring. The series of backlit drawings borrows as much from "écorchés," anatomical sculptures and drawings that depict the body without skin, as it does from horror films. The artist treats this iconography with an expressivity that permits her to reflect the production of representations of the body and, more precisely, of the image of an image. She recognizes the vulnerability of the drawing (charcoal and dry pastel on paper), a medium long associated with preparatory in-between stages of work. A far cry from the search for validation and body optimization of our current era, the painting of Aurélie de Heinzelin speaks of de-multiplication and immobility, of a broken or non-functional body, exposed in its relation to the common space in which we must live upright.
Share