EXHIBITION
12 MAR - 15 AUG 2021
49 NORD 6 EST - FRAC LORRAINE - METZ (57)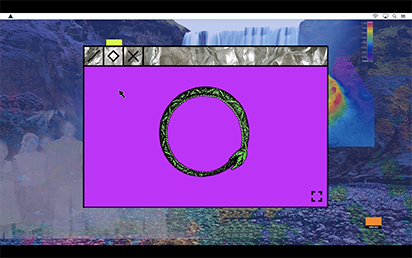 À plusieurs
↘︎ Tarek Lakhrissi invites Inès di Folco et Ibrahim Meïté Sikely
↘︎ Josèfa Ntjam invites Mawena Yehouessi aka M.Y, Nicolas Pirus, Sean Hart, Fallon Mayanja, Hugo Mir-Valette et Borgial Nienguet Roger
↘︎ Tabita Rezaire invites Yussef Agbo-Ola, Julien Creuzet, Hlasko, Elsa Mbala, Jenny Mbaye, Memory Biwa & Robert Machiri, Aisha Mirza & Mahta Hassanzadeh, Liz Mputu, Nolan Oswald Dennis, Bogosi Sekhukhuni, Justine Shivay
For this exhibition other modalities of work have been established, so as to imagine the links between artists and institutions differently. We have invited these artists to enter into collective spaces built on common experiences. By echoing their work With Others, they produce an open and multi-poled platform that manifests a displacement of roles.
The 49 Nord 6 Est invited three artists, each from the African diaspora, to in turn invite those with whom they collaborate, co-create and dialogue. The community assembled by Tarek Lakhrissi (1992, Châtellerault, lives and works between Paris and Brussels), whose pratique embraces performance, writing, film and sculpture, shares a way of thinking about strategies of domination and predation. Tabita Rezaire (1989, Paris, lives and works in Guyana) sees her role as an "agent of healing." She presents a "lunar dome" at the intersection between technology and spirituality, receiving sonic, filmique, and performed contributions from sources that go beyond the visual arts (an astrophysicist, a shaman…) Josèfa Ntjam (1992, Metz, lives and works in St. Etienne) probes material properties to go towards turmoil, outstripping the systems of oppressive/depressive canonization and the binary that flows from them. The artists she has invited co-produce with her and are for the most part from the same collective. The genealogy of confluence between the work of the artists is made visible as one passes from one space to another.
The writing of the exhibition was entrusted to Mawena Yehouessi, PhD candidate curator at the Villa Arson, who brings a perspective situated as a voice external to the institution. With Others proposes to reflect, through the exhibition and its dynamics of sharing, on the conditions of existence of an artistic production; on how this becomes the reflection of a demographic reality born from displacements and aggregations – inherently decentralized, entropic and plural.
Share