EXHIBITION
09 SEP - 22 JAN 2023
49 NORD 6 EST - FRAC LORRAINE - METZ (57)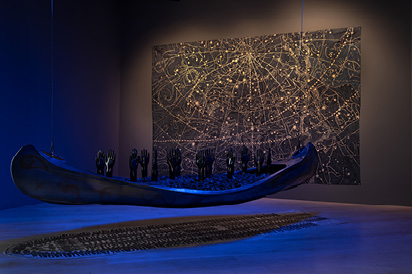 Serious Moonlight
'Betye Saar: Serious Moonlight' brings together a selection of immersive installations by the American artist Betye Saar (b. 1926, Los Angeles). Rarely exhibited until now, they reveal how the artist seizes the evocative power of found objects. Highlighting Black identity and intersectional feminism within the broader context of west coast history and experience in the United States, these installations offer visitors radical new worlds inspired by ritual and myth.
Rich with narrative, Saar's installations are informed by the artist's travels to Haiti, Mexico, and Nigeria during the 1970s. This exhibition highlights works that meditate on spirituality, referring to elements of voodoo culture, astrology, or palmistry. The installations in 'Betye Saar: Serious Moonlight' evoke links between magic and technology, allude to the process of mourning, or the passage between life and death. While Saar's intimately scaled assemblages of the 1960s and 1970s are icons of Black feminist art, audiences have rarely had the opportunity to encounter the artist's monumental installations — many of which have only been recently rediscovered and are exhibited here for the first time in decades. The history of the African diaspora has inspired Saar to create a highly influential œuvre of dense and vibrant forms throughout a career that has spanned decades.
With Serious Moonlight, 49 Nord 6 Est continues its exploration of diasporic visual languages in order to question hegemonic Western canons and the narratives that underpin them.
Share