ŒUVRE PERMANENTE
Tania Mouraud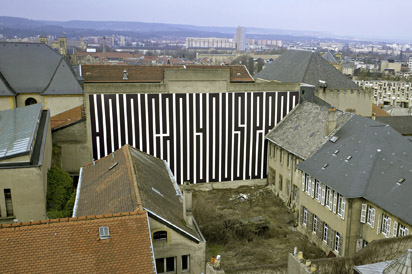 2005
Digital print on stretched tarpaulin 15×30m
Those who see will understand. Restricted to a handful of visitors, since it is visible only from the top of the pigeon tower at 49 Nord 6 Est, this monumental installation was conceived on the scale of a landscape. It is set against a dead wall at the back of an abandoned space, as the foreground of a stage set the size of a town: in the distance, there are buildings, the cathedral, a few factories, and, further still, some hills. The black and white script stands out because of its sheer size: the letters pointed like knives. It also stands out for what it says.
Whoever makes the effort to decipher it, is struck by the meaning. "How can you sleep?" sounds like a general injunction in the face of our deliberate blindness.
Using her wall paintings in the form of declarations and opinions, Tania Mouraud questions the act of seeing. She subverts the decorative and turns it into engagement.
Tania Mouraud
Born in 1942 in Paris, France. Lives and works in Paris.