PARCOURS
27 JUN - 05 OCT 2015
LIEUX ET INSTITUTIONS ARTISTIQUES - METZ (57)
Inauguration du Parcours :
Vendredi 26 Juin de 16h à 21h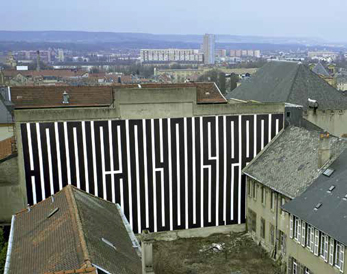 Whoever sees will understand.
Reserved for just a few viewers, as it can only be seen from the top of the building's dovecote tower, this Monumental piece is on the scale of the landscape, being inscribed on a large blind wall at the far end of a disused area. Around thirty metres by fifteen, it is like scenery foreground in keeping with the size of the city; in the background lie buildings, the cathedral, a few factories, with hills further behind them.
The black and white script has its effect, breaking with the yellow colour of the local stone. It stands out through the size of these long letters, tapered like knives, and most of all it stands out through its meaning.
How can you sleep? Tania Mouraud let out a scream of revolt taken from the Schoenberg opera A Survivor of Warsaw, in which the narrator recounts in English the SS invasion of the ghetto.
At first glance, the work looks almost incomprehensible, but innocently leads you on to decipher the message. The meaning jumps out at you if you bother to look hard enough. 'How can you sleep?' sounds like a wakeup call regarding all the things we shut our eyes to.
Tania Mouraud diverts the decorative, which becomes commitment. For her, 'doing art' means combining a sensory and perceptual experience while positioning oneself in relation to the realities of the world.
Share