LECTURE & SCREENING
THURSDAY 22 NOV 2018, 16H
UNIVERSITE DE LORRAINE, METZ
Rendez-vous à l'UFR Arts, lettres et Langues de 16h à 20h pour 2 temps forts : une table ronde sur les pédagogies alternatives et une projection du film Vincennes, l'université perdue de V. Linhart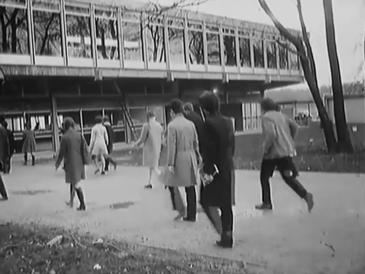 4 PM / ROUNDTABLE
Alternative pedagogies
Irène Pereira, co-coordinator, Institut bell hooks–Paulo Freire, Paris; Valérie Phiet, co-founder of the Experimental Program in Political Arts, Science Po, Paris; Shiri Shalmi, co-organizer, Antiuniversity Now, London
How can we rethink the construction of knowledge and its transmission? Our guests will experiment with the de-hierarchization of knowledge and know-how and the decompartmentalization of disciplines, often within independent and inclusive systems that welcome horizontal, open-ended exchange.
6:30PM / SCREENING
Vincennes: The Lost University
Documentary film by Virginie Linhart (2016, 95 min)
The elimination of lecture courses, abolition of age limits and diploma requirements, creation of evening classes, establishment of a nursery… May '68 did all that, and for 12 years the University of Vincennes thrived, disrupted, and attracted such brilliant minds as H. Cixous, G. Deleuze, M. Foucault. "The thinking forest" had thus become a go-to place that combined activism and learning until it was shut down, then erased from the earth over the course of three days.
Bande-annonce