AWARD FOR YOUNG CURATORS
19 DEC - 14 MAR 2014
49 NORD 6 EST - FRAC LORRAINE - METZ (57)
Award for Young Curators 2014
MARCO / Frac Lorraine / SFKM
-
Deadline for the presentation of the projects: Friday March 14th, 2014
Decision of the jury: May 2014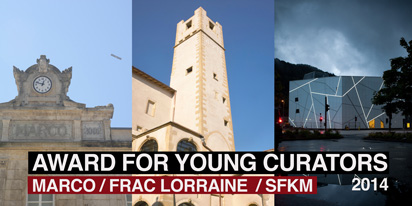 MARCO, Museo de Arte Contemporánea de Vigo, 49 Nord 6 Est – FRAC Lorraine, Metz (Fonds régional d'art contemporain de Lorraine), and Sogn og Fjordane Kunstmuseum (SFKM), Førde organize the 2014 edition of their Award.
All curators born in 1974 and later are eligible to enter the competition.
With this call, MARCO, FRAC Lorraine and SFKM pledge their commitment to training young professionals within the curatorial field.
This competition offers participants a chance to propose a project focused on an original and personal reflection topic, and the possibility to develop it in the exhibition venues at MARCO (1st floor), FRAC Lorraine, and SFKM (mainly the ground- and first-floor galleries).
The proposal must be within the field of contemporary thought and may incorporate any creative forms. The project may be accompanied or constituted by a program of activities in order to open a new space of reflection regarding the treated topic. The originality of the proposed thesis of research, the pertinence of the suggested references, and the multidisciplinarity will be key in the selection of the award winner
The curator of the winning project will receive the sum of 6,500 €, tax included, as an honorarium. His/her travel expenses (for the residencies and installation periods in the three institutions) will be reimburse upon presentation of appropriate supporting documents, up to 5,000 €, including taxes.
The winning project will have a maximum budget of 20,000 € for each venue. It will open in 2015.
The deadline for the presentation of the projects is Friday, March 14, at Midnight.
Dossiers received after this date will not be accepted.
Entries must be submitted in PDF format to the following three email addresses:
, and with the subject: "Award for Young Curators."
Projects must be preferably written in English, although French, Galician, Norwegian, and Spanish languages are admitted. In any case, an abstract (2 pp. max.) in English must be included. All projects must be exclusive to FRAC, MARCO and SFKM.
The jury will select the winning project in May 2014. Its decision will be made public before May 15th, 2014, and all participants will be notified by email.
To go further, download the comprehensive award's rules !
Share