EXHIBITION
07 MAY - 16 AUG 2010
GALERIES POIREL - NANCY (54)
drawing time / le temps du dessin
Opening: Thursday 06th May at 4 pm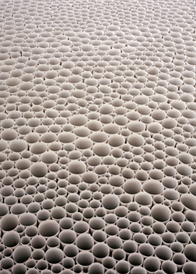 All too often confined in "cabinets of drawings", works on paper nevertheless are a reflection of the first manifestations of artistic thought and action. The "masterpiece" takes shape on a blank piece of paper, in the act of tracing a line, leaving a mark, that is, in the act of drawing. In the incredible space of the Poirel galleries, drawings offer themselves in an unusual "representation". Playing with disappearance, with excessive filling-in, or with inventive usage of a ream of paper, the works challenge, in turn, space and time, sometimes taking on imposing proportions.
Gaylen Gerber's spectacular installation, Backdrop, whose function, as its name indicates, is to serve as a background for other works, creates a new environment, erasing any context incompatible with the white wall in order to offer floating architecture and redefine our perception of "displayed drawings". Other works are, indeed, arranged according to the logic of endangerment, where each work may just as well find its display case.
Backdrop thus challenges at once both the context of the exhibition, the architecture of the building, and our experience of temporality and autonomy (or its lack) of the work of art.
This exhibition project was realized thanks to the joint initiative of FRAC Lorraine and Musée des Beaux-Arts in Nancy which, in turn, points visitors in new directions in order to answer the question of artists' growing infatuation with drawing, despite the lure of new technologies. Other institutions participate in this project, including Galerie Nancy Thermal, which features Vera Molnar's piece Promenade (presque) aléatoire, and the gallery Art Attitude Hervé Bize in Nancy, as well as the Douëra in Malzéville.
Share