EXHIBITION
06 JUL - 08 JAN 2018
LA GRANDE PLACE - MUSÉE DU CRISTAL - SAINT-LOUIS-LÈS-BITCHE (57)
Vernissage le mercredi 5 juillet 2017, à 18 h 30
Artistes invitées : Anne Delrez, Julie Luzoir
En partenariat avec la Fondation d'entreprise Hermès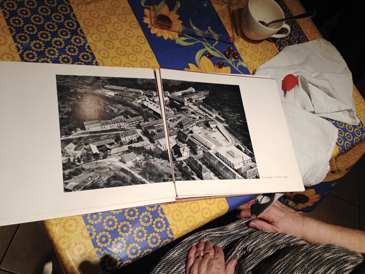 The group exhibition Arweider at La Grande Place, musée du cristal Saint-Louis, in Saint-Louis-lès-Bitche (Moselle, France) is produced by the Fondation d'entreprise Hermès, as part of its continuing support for temporary exhibitions at the Foundation's own art spaces (in Brussels, Singapore, Seoul and Tokyo) and in partnership with leading public institutions (Formes Simples with the Centre Pompidou-Metz, and L'Esprit du Bauhaus at the Arts Décoratifs, Paris).
Each year, the Foundation presents two exhibitions of contemporary art at Saint-Louis, with a focus on artisanship and/or skilled expertise. Each season of three themed exhibitions is co-produced with a leading cultural institution in the Lorraine region, in association with the cristallerie Saint-Louis and La Grande Place, musée du cristal Saint-Louis. Following the inaugural season, in partnership with the Centre Pompidou-Metz, our guest institution for 2016 and 2017 is the region's public fund for contemporary art, 49 Nord 6 Est – Frac Lorraine, Metz. Arweider is the third show in the current season.
arweider
"Opaline candlesticks, translucent Christmas baubles, wedding cups that chime like bells… In the land of the 'Étoiles Terrestres', glass and crystal are a part of everyday life. But who are the men and women whose expert hands have shaped these objects down the generations? This exhibition spotlights personal testimonies from the region's Arweider (glass workers in the local Platt dialect), and bears witness to their exceptional skill in the handling and blowing
of molten glass.
For ten months, French artists Anne Delrez and Julie Luzoir worked with a number of Arweider to create a participative project based on the personal histories of the men and women of the crystal foundries. In private homes, conversations are sparked by family photographs, drawings and objects carefully removed from their vitrines for the occasion. Glass workers talk about their first day at foundry, the celebration of the Kirb*, hands marked by their work, and the bursts of song that ring out in the workshops from time to time.
Arweider is a collective exhibition devised in close collaboration with the artists. Each inhabitant has been invited to contribute to the exhibit with his or her lifestory through objects, photographies, medals, drawings etc. Together, they cast a discreet spotlight on the personal tastes and stories at the heart of the glass and crystal foundries."
Curator — Béatrice Josse
The exhibition features sets of family glasses and other wares in glass or crystal, small candlesticks, a film, photographs, drawings and designs, press cuttings, workers' medals and more.
These personal items are echoed in a sound installation based on the aural histories collected by the artists from the region's Arweider.
An artist' multiple, conceived by Anne Delrez and Julie Luzoir for the exhibition, is available at La Grande Place, musée du cristal Saint-Louis.
artists
ANNE DELREZ
b. 1971 in Metz (France) – Lives and works in Metz (France)
Anne Delrez is a photographer and director of the Conserverie de Metz, the exhibition space of France's national collection of family photograph albums, which she opened in 2011. Her participative practice seeks to collect and present family photographs: private pictures that tell the history of a nation. She organises workshops and numerous, mostly group, exhibitions: Se Tenir (2016), Delphine Balley, l'album de famille (2014), La photographie du portefeuille (2013), Moi aussi, j'y étais (2011), Ça ressemble à quoi le bonheur (2009).
www.cetaitoucetaitquand.fr
JULIE LUZOIR
b. 1986 in Reims (France) – Lives and works in Metz (France)
Julie Luzoir works chiefly through the medium of drawing to explore collective memory and consciousness, forge connections and promote discussion. Her pieces take the form of performances or participative actions during which she invites the public to bring works of art
to life. A graduate of the Ecole Supérieure d'Arts de Lorraine, she has exhibited at the 60th Salon de Montrouge (2015), Palais de Tokyo (Dessins abandonnés le 28 juin 2015 au Palais de Tokyo, 2015), the Alternativa Festival in Gdansk, Poland (2015) and Mudam, Luxembourg (a workshop, Hors cadre, 2014).
www.julieluzoir.com
partners
THE FONDATION D'ENTREPRISE HERMÈS
The Fondation d'entreprise Hermès supports men and women seeking to learn, perfect, transmit and celebrate the creative skills that shape our lives today and into the future. The Foundation operates eight major programmes with a combined focus on skills, creativity and transmission: New Settings for the performing arts, exhibitions and artists' residencies for the visual arts, Immersion for photography, Manufacto – the Skills Factory and our Skills Academy for the discovery and perfection of artisan trades. H3 is the Foundation's worldwide programme of support for organisations whose work reflects these central aims. Our Biodiversity programme enacts a core commitment to protect fragile ecosystems for future generations.The Foundation's diverse activities are governed by a single, over-arching belief: Our gestures define us.
Fondation d'entreprise Hermès
THE CRISTALLERIE SAINT-LOUIS AND LA GRANDE PLACE, MUSÉE DU CRISTAL SAINT-LOUIS
Founded in 1586, the Münzthal glassworks became the Verrerie Royale de Saint-Louis in 1767 and finally the Cristallerie Saint-Louis following the discovery of the secret of lead crystal-making in 1781. The Cristallerie became part of the Hermès Group in 1989. Today, Saint-Louis creates internationally renowned crystal pieces for the home, in lighting, tableware and decoration. La Grande Place is the Manufacture's museum and gallery, opened at the heart of the site in 2007. The Musée du cristal Saint-Louis presents a permanent collection of 2,000 beautiful, fascinating objects illustrating four centuries of technical innovation, creativity and artistry at the Saint-Louis crystal foundry. The visit also includes the crystal workshops, a new environmental initiative – the Jardins de Saint-Louis – and industrial architecture in the village of Saint-Louis-lès-Bitche (guided tours of the workshops, gardens and village, prior bookings only).
www.saint-louis.com
Share