DISCOVER
30 JAN - 03 MAY 2015
49 NORD 6 EST - FRAC LORRAINE - METZ (57)
SYNESTHESIA … OR SENSORY TRANSLATION OF THE WORLD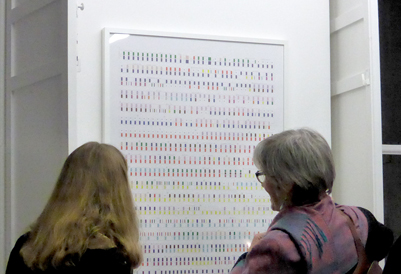 We perceive the world around us thanks to our senses. Our brain intercepts a great part of this flood of information in order to keep us from being overwhelmed. Images, sounds, smells, and tastes transmitted by our sensory organs activate neurons in very specific regions of the brain. In the case of synesthetes, the distribution of information occurs differently. Several regions are being solicited at the same time, which enables unusual associations of senses: this is referred to as sensory multimodality. As a result, some people can see sounds, taste the texture of objects, process letters and numbers as colors, or perceive time visually in three dimensions.
Have you experienced something similar?
Stop searching, you must be a synesthete!
These singular perceptions may be a vehicle for creativity. The artistic community probably brings together the greatest number of synesthetes.
They include composers such as Duke Ellington, Syd Barrett, Alexander Scriabin, Oliver Messiaen, Franz Liszt; painters such as Joan Mitchell, David Hockney, Vassily Kandinsky; writers such as Vladimir Nabokov or Daniel Tammet. Some poets, like Arthur Rimbaud or Charles Baudelaire, although not affected by synesthesia, drew on it as a source of inspiration. This is also the case of artists featured here today … in an exhibition full of color.
Selection of Editions and books
MERIS ANGIOLETTI
Série Eaux claires et montagnes violettes, 2014
[Limpid Waters and Purple Mountains Series]
Drawing his inspiration from cognitive sciences, psychology, and esoteric beliefs, Meris Angioletti examines the workings of perception, memory, and the psyche. Influenced by research in iconography, the artworks in this series project images or colors that interconnect in the mind of the viewer to produce "inner visions."
MARK GEFFRIAUD
Roche, 2008
This work of art is based on Compact (1966), the début novel by Maurice Roche, consisting in a narrative for seven voices, each identified by a different font color. M. Geffriaud created a mechanism to separate each of these voices by means of monochrome slides. Thanks to chromatic homonymy, the slides efface certain fragments of the text when projected onto the pages of the book.
JOSEPH GRIGELY
Blueberry Surprise, 2006
Deaf since the age of ten, Joseph Grigely primarily focuses on the art of conversation, and explores questions concerning communication and language. Blueberry Surprise consists in a continuous text of 45 000 words written down for the artist by his interlocutors. Each change in color (red, orange, and black) signifies the passage towards a "new," always unknown, voice.
ALISON TURNBULL
Spring Snow – A Translation, 2002
This color essay by Alison Turnbull is based on Spring Snow, the first novel by Yukio Mishima (1925–1970). It is a visual translation of the multiple evocations of color in the Japanese writer's book. Working from the English translation, A. Turbnull isolated the six hundred colors in the order they appear in the text.
JEAN-CHRISTOPHE ROELENS
Prométhée ou le Poème du feu, 2013
Prometheus or the Poem of Fire has its source in Opus 60 (1908–10) by the composer and synesthete Alexander Scriabin. This composition, written for symphony orchestra, piano, and mixed choir, includes a light score, known as "Luce," for color organ which accompanies the music with colored projections. Scriabin envisioned a system of correlations between sounds and colors based on his own experience of hearing colors. J.-C. Roelens proposes a color transcription of the work by keeping in mind the composer's vision of the correspondences between notes and colors.
Share