PERFORMANCE
SATURDAY 18 MAR 2017, 15H
49 NORD 6 EST - FRAC LORRAINE - METZ (57)
Jiri Kovanda, artist
3pm & 5pm.
Collection 49 Nord 6 Est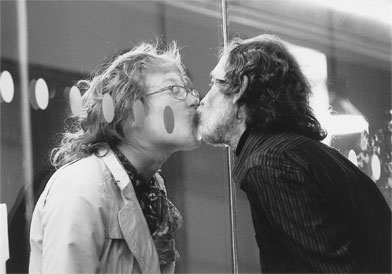 Positioned behind a pane of glass, the artist invites you to share a hygienic kiss. A symbolic act of love in an individualist world creates a space open onto the other.
-
-
Jirí Kovanda is known on the Czech art scene for the great ease with which he can pass from one practice or form to another. Self-taught, he does not separate everyday life from his practice of art, making it almost invisible. This invisibility he lays claim to is also what stirs interest in Jirí Kovanda's work among many artists and art critics.
These performances only appear when documentary traces – photographs, texts or films – are incidentally created by unplanned witnesses and are able to retrace the frail and sometimes imperceptible chronology of the action.
He ended his practice of performance art in 1978, and from then on his body, his person disappeared from his photographs.He went on to work on the installation, again following the invisibility process. Photographs are the only proof of the existence of these arrangements of found objects, organic waste and food products. In this way, Kovanda is deliberately holding back from a materialistic view of art formalized into a lasting object. For several years after going in for collage and assemblages and then painting, Kovanda produced no more art.
Kissing Through Glass marks Jirí Kovanda's return to performance art as he continues to develop his ideas of the 1970s. Behind a pane of glass, he invites visitors to place their mouths over his, for a pretend or sanitized kiss where the intimacy of the gesture is filtered out. Kovanda claims no political content in these performances.
Share