PARTICIPATORY WORKSHOPS
SATURDAY 04 MAR 2017, 10H
49 NORD 6 EST - FRAC LORRAINE - METZ (57)
10am to 4pm, Free admission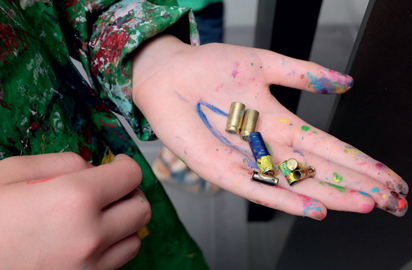 Participatory Workshops
SATURDAY, MARCH 04
10am to 4pm, Free admission
Take part in workshops conducted by 3 art collectives invited to test their protocols, and enjoy the opportunity to experience Manufactories!
3 workshops, 3 sessions, limited number of places, so sign up right now for a full day of attractions, excitement, and above all sharing.
Register at: 0033 3 87 74 20 02 /
Selma et Sofiane Ouissi
THE MINOR GESTURE
-
The artists-choreographers Selma and Sofiane Ouissi (born in Tunis, 1975 and 1972, respectively) are interested in the interaction between body language and otherness. By collaborating with local communities, they explore the power of minor gestures to transcend boundaries, social differences, and linguistic barriers. Their creations are both poetic and political. They record nonverbal language and create new modes of cohabitation based on cooperation, attention, and exchange with the other. Selma and Sofiane spotlight the life stories of persons marginalized by the dominant discourse. Making use of video, choreography, illustrations, and installations, they invite us to reach out to the other through a gesture of shared emotion and experience. Like memory, the body is a site and an archive of lived experience. The other's gestures are transformed into a collective notation.
Selma & Sofiane Ouissi are choreographers, dancers, performers, video artists. Their creations have been featured at prestigious festivals and shown around the world. In 2007, they founded the association L'Art Rue dedicated to the production and dissemination of contemporary art in public spaces in Tunisia. They created "Dream City," a multidisciplinary biennale in Medina's city center (edition 2017: 4–8 october). They are today considered to be major figures in contemporary dance in the Arab world.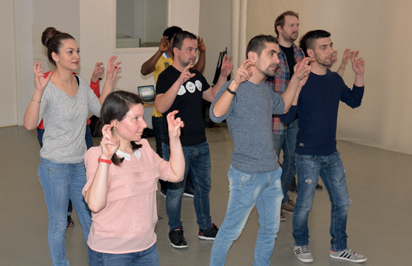 Gorod Ustinov
MICROMUSEUM
-
The main purpose of micro-artgroup "Gorod Ustinov" – learn to feel and appreciate the space, starting with the smallest of its parts. Artists living in the vast extensive country work in the conventional direction of the "micro". This is the size of objects, and sometimes shortness of their existence, and microcommunications – the level of personal contacts in the process of creating and displaying works. Participants of the micro-artgroup "Gorod Ustinov" were born in 1986 in that city which is today called Izhevsk. They take part in exhibitions since 2006, but together under the name "Gorod Ustinov" since 2010. They don't tell their names publicly.
Personal exhibitions (selected): "Microterritory", "Factory of Free Time: Microstreetart", Perm Art residence, Perm – KICA, Krasnodar (2012); "Moments-monuments", apartment of Tanya Gorbunova and Andrei Nosov, Nizhny Novgorod (2013); "Micromuseum", The National Center for Contemporary Arts (Volga region branch), Nizhny Novgorod (2014); "Micromuseum", MSK, Ghent, Belgium (2015).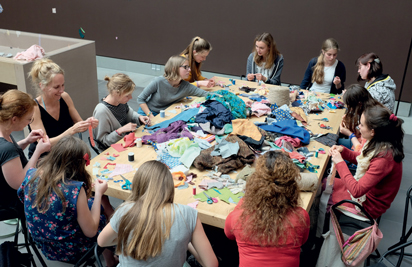 Blanca Callén et Soledad Gutiérrez
OBJECCIONS
-
Objections research Project starts with the necessity of understand better how the art system operates in relation to collective, participative and open art practices and it tries to explore the possibilities of more sustainable material ecologies and artistic practices. Along this project we approach discarded objects, forgotten or disregarded knowledge with the aim of recover, analyse and transform them through different artistic disciplines. How daily objects become central for the artistic field? Which mechanisms transform them into art? Or even, would it be possible to live inside the institutional artistic sphere without such objects?
http://www.fundaciotapies.org/objections
Blanca Callén (Huesca, 1979) works as social researcher and teacher at BAU Design College of Barcelona and the Faculty of Psychology in the University of Vic (ES). She has developed several projects in relation to collective political action and civic participation. She is co-founder of Restarters-BCN, a local collective dedicated to the dissemination of the cultures of repair.
Soledad Gutiérrez (Torrelavega, 1976) is a researcher and independent curator. She worked as Exhibitions Curator at MACBA, Barcelona until 2014, where she curated exhibitions such as "WRITTEN IN THE WIND. Drawings by Lawrence Weiner". Before that,she was responsible for the Exhibitions Program at Hauser & Wirth Gallery, and Exhibitions Organiser at the Whitechapel Art Gallery, both in London. She has curated exhibitions such as "Allan Kaprow. Otherways" with Laurence Rassel at the Tàpies Foundation. "Moving Image Contours: Points for a surrounding movement" together with Anna Manubens in Tabakalera in San Sebastian and "At Times Embellished. Patricia Esquivias" at CA2M (ES).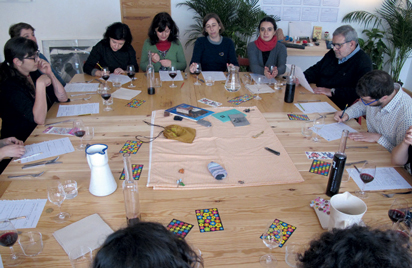 -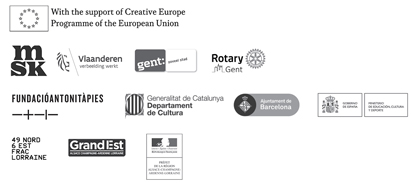 3 art collectives invited
Share