GARDEN / WORK IN PROGRESS
01 MAY - 29 AUG 2010
49 NORD 6 EST - FRAC LORRAINE - METZ (57)
From a thousand flower pots… to st.
John's wort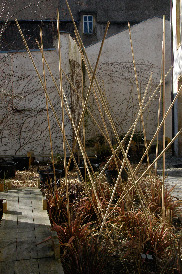 In 2009, the atelier le balto undertook a work of "involution" by replacing and reusing pre-existing green elements in order to open up an empty space and recover the essence of the garden: its boundaries, its façades, and its ground. This fallow plot became the kingdom of "weeds."
Equally attached to another "wild" plant, Liliana Motta offers us a patch of Hypericum, commonly known as St. John's wort. Often unappreciated, this roadside plant has been used in medicine for its antibacterial, anti-inflammatory, analgesic, and anxiolytic properties.
Submit to the extraordinary power of this plant which heals all afflictions, and particularly the depression!
Liliana Motta
: Artist-botanist of Argentinian origin, interested in "weeds." By foregrounding their subjective, ideological classification, she questions the concepts of national territory and protectionism. She has created a collection of Polygonum, registered as a "National collection" by the Conservatoire français des collections spécialisées.
Share