EXHIBITION
12 JUN - 01 SEP 2015
WYSPA INSTITUE OF ART-GDANSK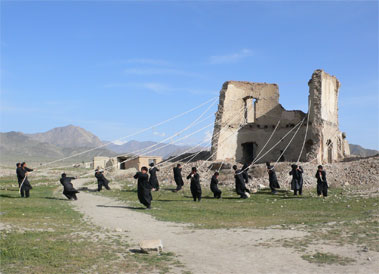 Alter­na­tiva 2015 enta­ils and deve­lops ideas under­ta­ken for a two-​​year pro­ject Gar­den of Eve­ry­day Errors
The pro­ject fol­lows tacit know­ledge in the prac­tice of eve­ry­day life and in forms we tend to over­look. Our aim is to reverse this per­spec­tive. In this pro­ject the com­mon form pier­ces or con­su­mes the arti­stic one. We try to re-​​evaluate the ordi­nary and take it as a source of know­ledge that has rema­ined use­less since we han­ded our lives over to the experts.
The pro­gram of the Inter­na­tio­nal Visual Arts Festi­val Alter­na­tiva 2015 is made up of the major exhi­bit Ver­na­cu­la­rity, accom­pa­nied by a per­for­ma­tive pro­gramme, an exhi­bi­tion of the col­lec­tive Hard-​​Core, three book publi­ca­tions and a con­ti­nu­ation of Open Gar­den by Len­dla­bor which is fur­ther enri­ched by a par­ti­ci­pa­tory pro­gramme. Altho­ugh we have pre­pa­red two exhi­bi­tions, most of the accom­pa­ny­ing events allow them­se­lves to nearly disap­pear in the hustle and bustle of eve­ry­day acti­vi­ties: while eating, wal­king, fin­ding things along­side the road or wor­king in the gar­den – all of which are often refe­ren­ced in Ver­na­cu­la­rity.
Open Gar­den was cre­ated from scratch last year with people from our neigh­bo­ur­hood in col­la­bo­ra­tion with the arti­sts, archi­tec­tu­ral stu­dents and local botany enthu­sia­sts. It is a demon­stra­tion of our tac­tic to regain the living space of the site that had seemed to be in the pro­cess of disin­te­gra­tion. We invite you to visit our gar­den and take part in our gar­de­ning cho­res, meetings and lec­tu­res. We will eat what we grow. We will get to know the arti­sts for whom feeding and hun­ger are sour­ces of rese­arch and hap­pe­nings. We will also depart from here for field trips, watch movies and meet our guests.
The Ver­na­cu­la­rity exhi­bi­tion is plan­ned for the entire sum­mer. Until the end of Sep­tem­ber it rema­ins our alpha­bet of eve­ry­day phe­no­mena, a field of refe­rence, a rese­rvoir of forms and tech­ni­ques. Ver­na­cu­lar is per­haps not a very popu­lar term altho­ugh it refers exac­tly to that which is com­mon. It refers to the indi­ge­nous, to the lan­gu­age of daily com­mu­ni­ca­tion, local know­ledge, tech­no­logy and a mode of repre­sen­ta­tion. Today we speak of ver­na­cu­lar archi­tec­ture, such as pho­to­gra­phy or gra­phic design. Ver­na­cu­la­rity was cho­sen as the theme of our main exhi­bi­tion which allows for a laby­rinth of mate­rial works, pain­tings, sculp­tu­res, texti­les, video and diverse acti­vi­ties lin­ked to the objet tro­uvé , natu­ral objects, tech­ni­ques and tech­no­lo­gies of the eve­ry­day, as well as quoti­dian sub­stan­ces and acti­vi­ties. It puts toge­ther the visual voca­bu­lary of the com­mon, reve­als the links between the dome­stic and the relational.
Our mat­ter of con­cern and inqu­iry are natu­ral fin­dings such as plants or sto­nes; and the aesthe­tics of found objects as well as their abi­lity to gene­rate new forms; the pain­terly skills of the nail spe­cia­list and the ano­ny­mous talents of weavers. We are inte­re­sted in ver­na­cu­la­rity in photo repre­sen­ta­tions and repe­ti­tion in eve­ry­day cho­res. We refer to lan­gu­age, to what is trans­la­ta­ble and untran­sla­ta­ble in a local con­text. This is per­haps due to it being untran­sla­ta­ble, often con­si­de­red as a disqu­ali­fy­ing aspect of work in the inter­na­tio­nal cir­cu­la­tion of art, as being a power­ful gene­ra­tor of forms.
For August we have plan­ned an exhi­bi­tion by a group of arti­sts wor­king under the name Hard-​​Core as a coun­ter­we­ight to the cura­ted exhi­bi­tion. Pre­pa­red col­lec­ti­vely, the pre­sen­ta­tion of the pro­jects, on how to be libe­ra­ted from the domi­nance of ideas and entrust it to an algo­ri­thm that cal­cu­la­tes tech­ni­cal para­me­ters and dimen­sions, is a prag­ma­tic ope­ra­tor of the pie­ces in the exhi­bi­tion. This digi­tal, tech­no­lo­gi­cal and anti-​​curatorial pro­ject ope­ra­tes in a reality paral­lel to the other, dili­gent, labo­rious and mate­rial part of the festival.
Gar­den of Eve­ry­day Errors: Ver­na­cu­la­rity enta­ils its sister pro­ject from the pre­vious year: Eve­ry­day­ness and cla­sps toge­ther the five-​​year long pro­gramme line of Alter­na­tiva, tra­cing sub­stan­tial phe­no­mena from a local con­text such as labour and leisure, estran­ge­ment, mate­ria­lity, uto­pian thin­king and the tac­tics of eve­ry­day life. It is dedi­ca­ted to occa­sio­nally noti­ced forms which are so unre­mar­ka­ble that they are nearly exceptional.
Ple­ase feel welcome not only to the exhi­bi­tions but also to acti­vely par­ti­ci­pate in the ove­rall pro­gramme. See you soon!
The arti­sts list inc­lu­des: Sherko Abbas Abdl-​​razaq, Lida Abdul, Alice Aycock, Babi Bada­lov, Ismail Bahri, Ricardo Bas­baum, bersz­mi­siak, Olaf Brze­ski, Karo­lina Brzu­zan, Rafał Buj­now­ski, Ade­lita Husni Bey, Monica Bonvi­cini, Latifa Echa­khch, Harun Farocki, Esther Fer­rer, Anton Kats, Daphne Kera­mi­das, Anna Kró­li­kie­wicz, Julie Luzoir, Wen­de­lien van Olden­borgh, Agnieszka Pol­ska, Simon Pope, Kon­rad Pustoła, Tere Reca­rens, Maciej Sala­mon, Mierle Lader­man Uke­les, Flo­rian Zey­fang, Sylvie Réno. Hard­Core. Len­dla­bor Open Gar­den: Lisa Enzen­ho­fer & Anna Resch.
Share