EXHIBITION
23 JUN - 07 JAN 2018
MARCO / MUSEO DE ARTE CONTEMPORANEA -VIGO (ES)
The Shyness of the Crowns
Curated by Beatriz Alonso, laureate of the MARCO/FRAC Lorraine/SFKM Award for Young Curators 2016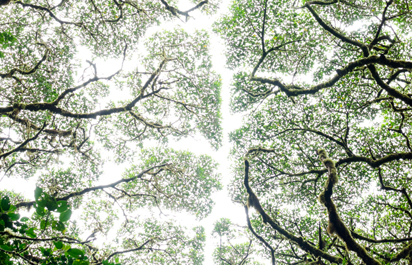 The Shyness of the Crowns, curated by Beatriz Alonso (Madrid, 1981), was the winning Project in the most recent call of the MARCO/FRAC Lorraine/SFKM Award for Young Curators 2016. From the very beginning, this award gives participants the opportunity to submit a topic of research and reflection which is of personal interest, and the possibility to bring it to fruition in the three organizing venues at the MARCO, the FRAC Lorraine (Fonds régional d'art contemporain de Lorraine), Metz, France, and the SFKM (Sogn og Fjordane Kunstmuseum), Førde, Norway.
Following its first display from March 17 to June 4 at FRAC Lorraine, Metz, the exhibition arrives at MARCO in the form of a second chapter or version of the show, since it has been adapted to the Museum first-floor galleries, and including specific features in the way in which some of the works are displayed.
Crown shyness is a natural phenomenon consisting of ach tree limiting the growth of its crown, making harmony possible in the forest canopy that enables species to coexist non-competitively. Taking this scientific fact and its connotations as a starting point, this proposal poses a reflection about our contemporary society, bringing the works by eleven artists together, each of them coming from different origins. Through the use of a variety of formats — video, installation, photographs, performance, screenings — they sometimes document and record previous actions always on the same leitmotif.
The poetical observation of this collective intelligence, of this concern for the common good, brings us a dialogue with our contemporaneous existence and remind us of the urgent need to take action — as members of a society — with a view to creating new heterogeneous scenarios for everyday co-existence through our otherness and differences.
An exhibition produced by MARCO, Museo de Arte Contemporánea de Vigo, 49 Nord 6 Est – FRAC Lorraine, and SFKM Sogn og Fjordane Kunstmuseum
On the Curator
Beatriz Alonso (Madrid, 1981) is an independent curator and researcher based in Madrid. Upcoming projects include No siempre que estuvimos/estuvimos, a cycle of specific proposals at Casa Museo Lope de Vega, Museo Casa Natal de Cervantes, Nuevo Baztán interpretation centre and Museo Picasso Colección Eugenio Arias (Madrid). Before that, she has curated projects of different nature at independent and institutional spaces: 49 Nord 6 Est – Frac Lorraine (Metz, FR), CA2M, La Casa Encendida, Sala de Arte Joven, Salón (Madrid), MACBA (Barcelona), La Regenta (Las Palmas de Gran Canaria). She has also been curator in residence at Lugar a dudas (Cali, CO), and researcher at Centre Pompidou and Musée du Louvre (Paris, FR). Recently, she has participated in a European curatorial exchange in Viena, Budapest and Zagreb organised by Obra Social La Caixa and ERSTE Foundation within the Comisart programme. She has been laureated in the following curatorial calls, among others: Se busca comisario 2013, organised by Sala de Arte Joven, Madrid, and Inéditos 2009, organised by La Casa Encendida. She has a degree in Art History by Universidad Complutense de Madrid and a Master's Degree in Contemporary Art by
Universidad Europea de Madrid.
Share